Infrastructure
'Getting the right infrastructure in place to support the group mentoring process'
The manufacturing facility of Basil Commodities is located in GIDC Ankleshwar, Gujarat, one of India's most developed industrial Chemical Zone of Ankleshwar having perfect infrastructure and vicinity to major Sea and Airports of western India. Ankleshwar is very close to Mumbai, which is known as Financial Capital of India.
The factories are located in the
Unit 1 : Plot no.: 6913/12, GIDC, Ankleshwar 393 002.Gujarat,India.
Unit 2 : Plot no.: 7109/10, GIDC, Ankleshwar 393 002.Gujarat,India.
Unit 3 : Plot no.: 6830/06, GIDC, Ankleshwar 393 002. Gujarat, India.
The technologically advanced ultra-modern plants and machinery of the facility gives a boost to the manufacturing ability of the company. This is complemented by a team of qualified engineers, chemists, marketing professionals that are a continuous source of motivation to achieve greater heights for the company.
The company exports nearly 75% of its products to various locations around the world.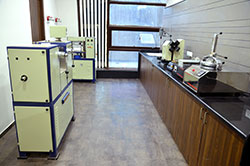 Research & Development
The foundation of the company lies in continuous research to offer premium quality products. Basil Commodities incessantly churns out novel products to meet the ever changing industry requirements. Equipped with sophisticated testing instruments & pilot plants, manufacturing facilities of Basil Commodities incorporate costlier additives to make unique & technically efficient products.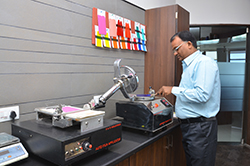 Quality Control & Lab Facility
Lab facilities available at our Quality Control Department:
Color Matching Spectro – Photo Meters, Vibro Shaker, Automatic Muller, Automatic Film Applicator, Two Roll Mill with Hydriodic Press, Bead Mill, Triple Roll Mill.
Balance Micro
Muller Machine
Two Roll Mill
Hydraulic Press
Vibro shaker
Electronic Balance
Top Loading Balance
Marshal Mars Mill
Heating Oven
Spectrophotometer
Viscosity Meter
Injection Moulding Machine
Auto Applicator
Digital pH Meter
Digital Conductivity Meter, etc.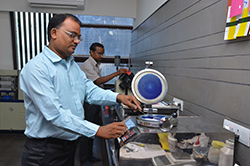 Packaging and Delivery
'Appropriate packaging and prompt delivery are image boosting attributes'
With a client base spread in India as well as many countries of the world, accurate packaging and prompt product delivery become crucial aspects for Basil Commodities. Customer satisfaction being the topmost priority, understanding and delivering according to the myriad needs and specifications of clients forms core activity of Basil Commodities. Smooth and efficient process facilitate high performance and low product imperfections. Basil Commodities identifies the importance of packaging and prompt delivery. Therefore, it provides a range of packaging options such as Jumbo Bags, HDPE Bags, Paper Bags, Paper Drums, M.S. Drums, and Fibre Drums.